Horse Riding Camps
La Gerencia Equestrian Center
---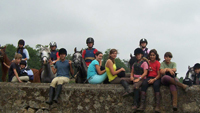 The riding camps at La Gerencia Equestrian Center, for children aged between 7 and 19 years, are an invitation to a summer packed full of fun, adventure, learning and friendships where your child is our main priority.
And an opportunity to learn Spanish whilst being immersed with local Spanish speaking children.
The campers stay in our private residence located on the seafront next to La Gerencia Equestrian Center, where they receive homemade food.
Our motto: have fun whilst learning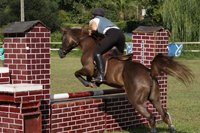 Every child is encouraged to participate in the activities of camp. Daily routine of an equestrian camp are followed whilst encouraging participating children to contribute their own ideas.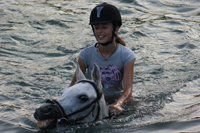 We encourage a non-competitive environment during the riding camps. The instructors and yard managers constantly encourage the improvement in theoretical and practical aspects of the sport; be it in dressage, show jumping or eventing.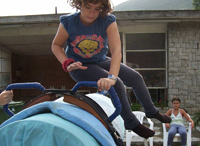 The horses are assigned according to the riding level of each child. The relationship which is established between the child and the horse is very important.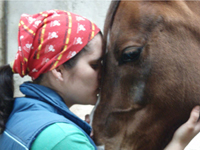 "Look after it to enjoy it"

The pupil not only rides, but also takes part in the looking after of the horse; brushing, showering, tack cleaning etc. To love a horse guarantees that the experiences lived are memories that last a lifetime, and our campers wait all year to see them again.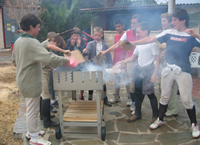 Life in the camp is complemented by general ice breaker activities such as going to the adjoining beach, dances, songs and games before going to bed. Huge friendships are made during these camps.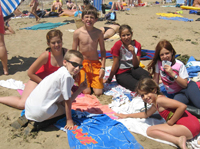 Equestrian camps for real horse lovers.
All the information needed is below, including dates, prices and enrolment forms. Of course do not hesitate to contact us on (+34) 9 42 87 91 38 where we can answer all of your queries.
---
Equine Camps 2018
Dates and prices:
Equine camps at Easter

Complete period. From Sunday 25th of March to Sunday 1st April (midday). Price 700 €.
From Wednesday 28th of March to Sunday 1st April (midday).
Price 350 € .

Equine camps in the summer:



Complete period of five weeks (Price: 2.700 €)
From 24th of June to 28th of July.


1 Month (Price: 2.300 €)


From 24th of June to 21st July.
From 1st of July to 28th July.

3 Weeks (Price: 1.800 €)
From 24th of June to 14th July.


2 weeks (Price: 1.300 €)

1st July to 14th July.
15th July to 28th of July.

1 week (Price: 950 €)


From 24th of June to 30th June.
From 22nd of July to 28th July.